Comments on June Climate:
Although the recent month of June was close to normal in terms of statewide mean monthly temperatures from the climate observer networks a few daily high temperature records were set or tied on June 9th including 93F at Rochester (tied 1973), 94F at Preston, 98F at Lake Wilson, and 99F at Madison. In addition a couple of low temperature daily record temperatures were 31F at Grand Marais and 38F at Owatonna on June 1st.

On a statewide basis June rainfall was near normal as well, but within the observational network were some individual daily record values. Some of these included 2.16" at Litchfield on the 4th, 2.45" at Theilman and 4.50" at Melrose on the 7th, and on the 22nd Lamberton reported a record 2.59", Austin a record 2.41", and Albert Lea a record 3.30".

As far as total June rainfall, Melrose (7.99"), Albert Lea (9.09"), and Austin (7.52") reported values that were among the 10 wettest Junes historically.


Weekly Weather Potpourri:
Speaking of June rainfall, the state of Illinois reported its wettest June in history on a statewide basis. Many climate stations reported over 10 inches of rainfall during the month, and there was widespread flooding, especially along the Illinois River. You can read more about this from the
Midwest Climate Center
.
A Heat Wave continued this week in the Northwest states of the USA. Medford, OR reported a record high on July 1st of 108F. Many areas of Oregon, Washington, Idaho and the western Canadian Provinces were seeing daily temperatures reach the 90s F as well as the century mark in some areas. A strong dome of high pressure will keep temperatures near record levels through the July 4th weekend. The NOAA National Weather Service will continue to issue Heat Advisories there.
Heat Waves have been dominant elsewhere as well. Areas in Pakistan, Spain, the United Kingdom, Columbia, and Venezuela were reporting record high temperatures this week as well. These resulted in public health problems and were conducive to the development of wildfires. More on this from the
BBC Weather Centre
.
Typhoon Chan-Hom was churning in the Western Pacific Ocean this week and expected to strengthen. So far it had produced winds up to 90 mph with sea wave heights of 20-25 feet. In the Southern Pacific Ocean Tropical Cyclone Raquel had formed off the east coast of Australia and was expected to remain out to sea and dissipate early next week.
Charles Fisk, Twin Cities weather historian has put together an interesting graphical depiction of the frequency of thunderstorm activity in the Metro Area based on hour of occurrence. It clearly shows the highest frequency of thunderstorm activity is in the nocturnal hours, late evening or early morning. You can find more of his analysis at the
climate stations web site.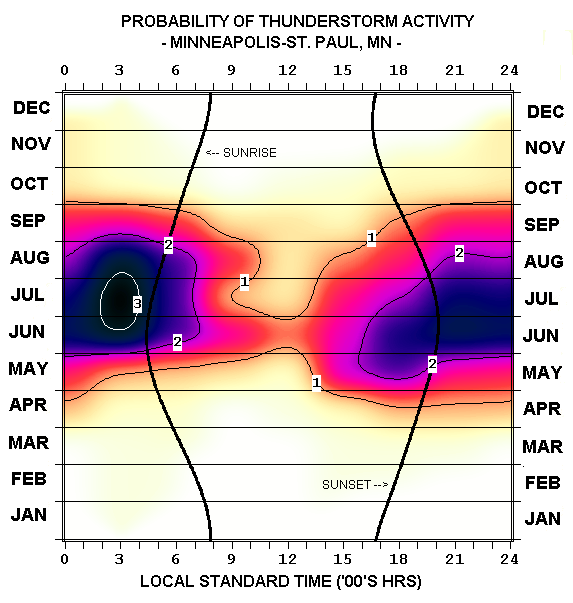 MPR Listener Question:
Is there any date on the July calendar when frost has never occurred in Minnesota?
Answer:
Good question. Many northern Minnesota communities have observed frost in every month of the year. The only date on the calendar when frost (32F or colder) has not occurred anywhere in Minnesota is July 21st. The coldest ever temperature readings in the state on that date were 34F at Fort Ripley (Crow Wing County)in 1871 and at Angus ( Polk County) in 1947.
Twin Cities Almanac for July 3rd:
The average MSP high temperature for this date is 82 degrees F (plus or minus 8 degrees F standard deviation), while the average low is 62 degrees F (plus or minus 6 degrees F standard deviation).


MSP Local Records for July 3rd:

MSP weather records for this date include: highest daily maximum temperature of 100 degrees F in 1949 and 1990; lowest daily maximum temperature of 62 degrees F in 1927: lowest daily minimum temperature is 47 degrees F in 1967; highest daily minimum temperature of 79 F in 1949; record precipitation of 3.70 inches 1879; and no snowfall has been recorded on this date.

Average dew point for July 3rd is 59 degrees F, with a maximum of 77 degrees F in 1999 and a minimum of 38 degrees F in 1941.


All-Time State Records for July 3rd:
The state record high temperature for this date is 107 degrees F at Beardsley (Big Stone County) in 1949. The state record low temperature for this date is 29 degrees F at Meadowland (St Louis County) in 1927. State record precipitation for this date is 4.61 inches at Itasca State Park (Clearwater County) in 1983; and there has not been any snowfall on this date.


Past Weather Features:
The first week of July in 1949 started with a Heat Wave. Over 25 Minnesota cities recorded daily high temperatures of 100F or greater. Overnight temperatures only cooled in the 70s and 80s F making for some uncomfortable sleeping conditions.
July 3, 1983 brought severe thunderstorms to many parts of the state. Strong downburst winds caused damage to power lines, as well as many homes and buildings in Scott, Carver. Nicollet, Anoka, and Washington
Counties. There was a tornado near Andover, with several homes damaged, but no fatalities. These storms brought heavy rains and flash flooding to parts of northern Minnesota where Hawley, Park Rapids, and Itasca State Park reported over 4 inches.
Outlook:
Sunny 4th of July with near normal temperatures, then increasing cloudiness on Sunday with a chance for scattered showers and thunderstorms. Continued chance for showers on Monday, then cooler than normal and mostly dry for the remainder of next week.