Record Snowfalls on Groundhog's Day:
A strong low pressure system brought widespread heavy snow to parts of eastern Nebraska, northern Iowa, southern and central Minnesota, and western Wisconsin on Groundhog's Day (Feb 2nd). Blizzard conditions, road closures, and early school and business closings were common across much of the region. Overall it was the snowiest Groundhog's Day since 1983 when many climate observers reported record-setting amounts of snowfall, ranging from 6 to 12 inches.
Snowfall reports for Tuesday, February 2, 2016 ranged from 4 to 12 inches in many areas, including the Twin Cities Metro Area. One report from Golden Valley was 13.2 inches. For some communities the storm delivered a new record amount of snow for the date. Some of these amounts included;
10.2" at Jordan
10.3" at Chanhassen and University of Minnesota St Paul Campus
9.9" at Gaylord
9.7" at Chaska
8.8" at MSP Airport
8.5" at Grand Meadow
7.0" at Winnebago and Austin
6.8" at Preston
6.3" at Redwood Falls
6.0" at Red Wing Dam
5.0" at Owatonna
4.9" at Blue Earth
4.2" at Sioux Falls, SD
More information on the Groundhog's Day snow storm can be found at the
DNR -State Climatology Office
web site. With the more abundant snow cover, many citizens returned to cross country skiing, and other outdoor activities this week.
Weekly Weather Potpourri:
To commemorate Groundhog's Day this week
NOAA media relations
posted an interesting analysis of how accurate the groundhog has been in forecasting the balance of winter. Actually the track record is not too good, about 40 percent.
From Brad Rippey at the USDA in his weekly USA drought briefing: Since mid-October 2015, stormy weather in many parts of the country­ in part driven by a strong El Niño ­has significantly reduced U.S. drought coverage from 34.78 to 15.48%­a drop of 19.30 percentage points. Where drought remains, mostly in the Far West, there has been incremental improvement. Although long-term concerns still include below-average reservoir storage, groundwater shortages, and tree mortality, winter precipitation has boosted spring and summer runoff prospects; improved rangeland and pasture conditions; cut irrigation demands; and reduced the need for supplemental feeding of livestock. California's intrastate reservoirs held just 54% of their normal water volume on December 31, and that number may not appreciably improve until high-elevation snow begins to melt in the spring.
The United Kingdom Met Office
issued a global temperature forecast for the next five years. Based on model projections the upward trend in global temperatures is expected to continue and likely surpass the warmest year of 2015. They note that areas of the North Atlantic Ocean and portions of the Southern Ocean may continue to show a cool signature.
A recent paper in
Geophysical Research Letters
suggests that a slowing down of the thermohaline circulation in the Atlantic Ocean Basin will lead to a positive trend in ice cover over the North Atlantic during the winter season. This trend runs counter to the overall loss of ice across the Arctic Ocean.
The
BBC Weather Centre
featured a review of the very high nacreous clouds that have occurred recently over the United Kingdom. They are more often confined to the high latitudes, but this week they have dipped further south. These cloud forms occur in the stratosphere at 70,000 feet ir higher and are composed of tiny ice crystals or super-cooler microscopic water droplets.
Speaking of clouds the Weisman Art Museum at the University of Minnesota has begun a new exhibit on clouds titled "Clouds, Temporarily Visible." It runs through the third week of May. The exhibit will explore the scientific and romantic aspects of clouds and feature a presentation by author Gavin Pretor-Pinney, founder of the Cloud Appreciation Society. His presentation will be feature on February 17 at 7pm and is called "Cloud Lovers, Unite!"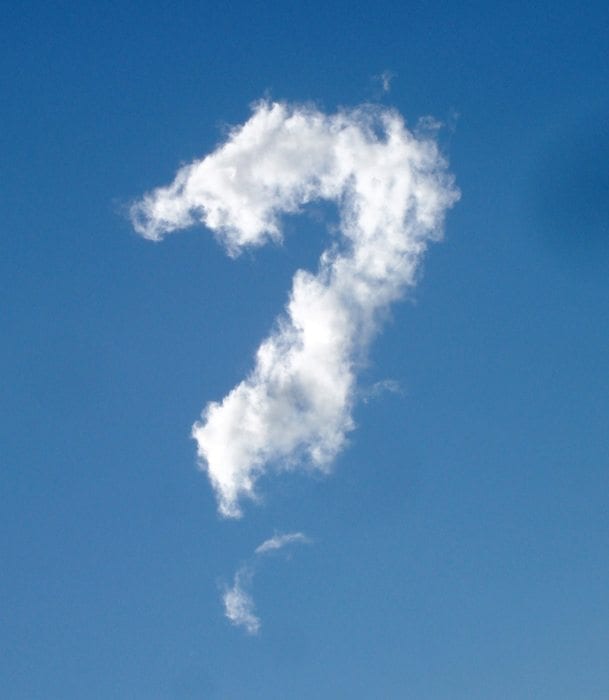 Question mark in the sky over Dorset, UK (from the Cloud Appreciation Society)
MPR listener question:
I got over 10 inches of snowfall on Tuesday here in Jordan, MN, the most I have ever measured in February. How does this snow storm compare to other historical snow storms during the month of February. I would bet it ranks pretty high.
Answer:
Yes, in the Twin Cities Metro Area the snow storm from Tuesday of this week ranks pretty high. At Jordan your official observer records go back to 1943 and they show only one larger February 1-day snow storm, that of February 21, 2011 when 11.6 inches fell. Comparing to the climate history of other Twin Cities area observers also shows a high ranking for Tuesday's snow storm:
Chaska ranked 1-day February snow storms: 12.5" on February 21, 2011; 10.6" on February 25, 2007; 9.7" on February 2, 2016
MSP Airport ranked 1-day February snow storms: 11.8" on February 20, 2011; 8.8" on February 22, 1913; 8.8" on February 2, 2016
Elsewhere around the state the 8.5" of snow at Grand Meadow (climate data back to 1887) on Tuesday ranked as the 6th largest February 1-day snowfall in their climate history, while at Caledonia (climate data back to 1892) the 8.9" of snow on Tuesday ranked 9th among heaviest February 1-day snowfalls.
Twin Cities Almanac for February 5th:
The average MSP high temperature for this date is 26 degrees F (plus or minus 13 degrees F standard deviation), while the average low is 10 degrees F (plus or minus 14 degrees F standard deviation).
MSP Local Records for February 5th:
MSP weather records for this date include: highest daily maximum temperature of 51 degrees F in 2005; lowest daily maximum temperature of -11 degrees F in 1895 and 1936: lowest daily minimum temperature is -27 degrees F in 1979; highest daily minimum temperature of 33 F in 2005; record precipitation of 0.52 inches 1908; and record snowfall of 7.5 inches also in 1908.
Average dew point for February 5th is 3 degrees F, with a maximum of 42 degrees F in 1946 and a minimum of -36 degrees F in 1979.
All-time state records for February 5th:
The state record high temperature for this date is 68 degrees F at Lamberton (Redwood County) in 2005. The state record low temperature for this date is -54 degrees F at Leech Lake (Cass County) in 1895. State record precipitation for this date is 1.75 inches at Bird Island (Renville County) in 1975; and record snowfall is 24.0 inches at Lynd (Lyon County) in 1915.
Past Weather Features:
February 5, 1895 was arguably the coldest in state history with temperatures of -20F or colder encompassing nearly all areas of the state. Both Leech Lake and Pokegama reported lows of -54F. Even the daytime temperatures remained quite cold with a high of -15F at St Cloud and -16F at Park Rapids.
A major winter storm brought heavy snowfall to the state over February 5-7, 1908, especially to northern sections. Walker, Pine River, Leech Lake and Two Harbors received over a foot of snow. It was the most significant snowfall event of the month, as the rest of the month was relatively dry.
The warmest February 5th in state history occurred in 2005 when over 80 Minnesota communities reported afternoon high temperatures of 50F or greater. Seven southwestern Minnesota observers reported highs in the 60s F. Nighttime temperatures were warm too never dropping below the mid 30s F at many places.
February 4-5, 1984 brought a poorly forecasted "surprise blizzard" to parts of southern and western Minnesota. Although snowfall amounts were light, winds ranging from 50 to 80 mph produced white-out conditions in many areas of the Red River Valley and Minnesota River Valley. Over 350 motorists were stranded and confined to their vehicles as wind chill conditions fell to -50F. Sixteen people died in this storm.
Outlook:
Mostly cloudy weekend with warmer than normal temperatures. Increased chances for snow later in the day on Sunday over the weekend with a chance for snow later on Sunday. Increasing winds with blowing and drifting snow Sunday night into Monday, then cooler than normal temperatures for much of next week, with moderation in temperature towards next weekend.