Wet April Continues: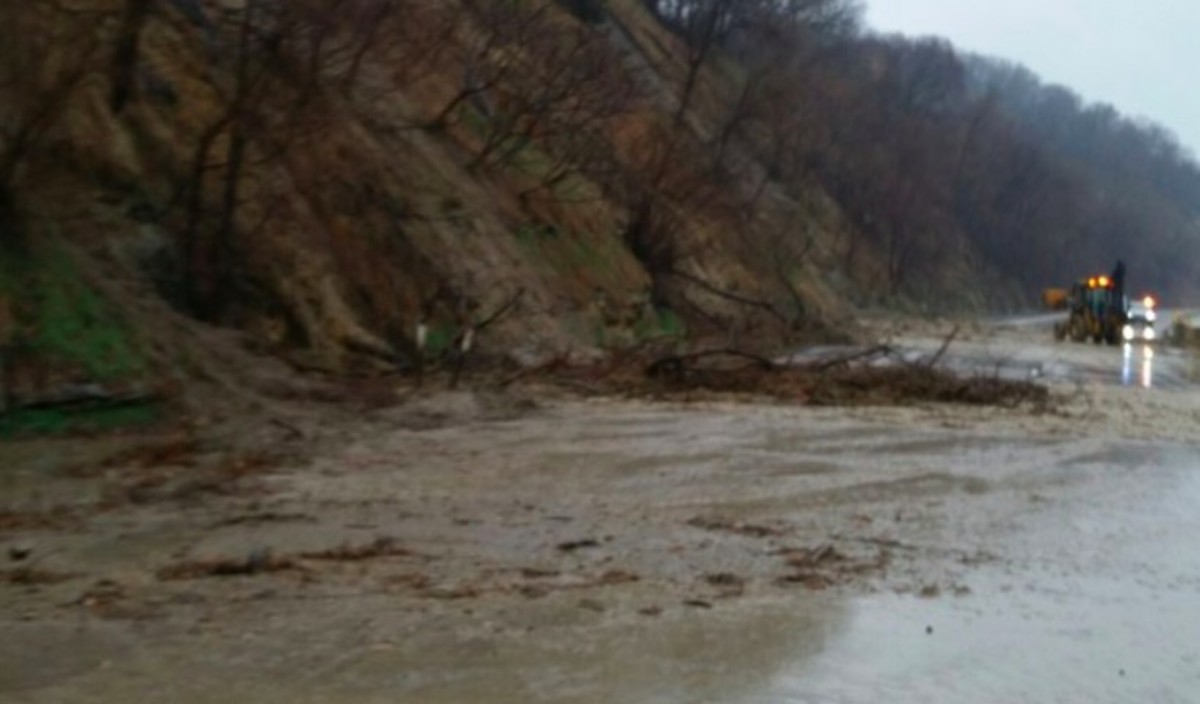 According to the
Minnesota State Climatology Office
the first widespread heavy rain event of 2019 produced minor flooding, rapid stream rises, and even a road-closing mudslide in southern Minnesota on Wednesday April 17, 2019. The heaviest rainfalls occurred in a swath from New Ulm to Hastings, but many other climate stations reported significant rainfalls from 1 to 2 inches. A mudslide along Highway 169 north of St Peter caused the highway to be closed for a while.
Many climate stations reported new daily record rainfall values that day including: 1.24" at Lake City, 1.28" at Jordan, 1.30" at Zumborta, 1.49" at Red Wing, 1.60" at Minnesota City, 1.73" at Owatonna, 1.95" at Rosemount, 2.39" at Faribault, 3.08" at Hastings, 4.18" at St Peter, and 4.45" at Northfield. There were also widespread reports of thunder and lightning.
With this additional moisture at least 35 climate stations now report over 3 inches of precipitation for the month so far. With 4.63 inches so far this month, St Peter has already logged the 8th wettest month of April in their climate history (back to 1893), while Hastings, with 4.53 inches is also having their 8th wettest April in history going back to 1933.
With eleven days left in the month we will undoubtedly see these rainfall totals for April climb. However, it is quite unlikely anyone will come close to the all-time April rainfall total of 11.93 inches at Lynd (Lyon County) in 1896.
Weekly Weather Potpourri:
A new study from
NASA
published in Environmental Research Letters documents a validation of global satellite data sets with surface observations of temperature on Earth over the period 2003 to 2017. Both data sets show a remarkable warming trend.
On Thursday evening, April 25th, MPR Chief Meteorologist Paul Huttner and I will be doing a program at the Bell Museum from 7 to 9pm titled "Weather vs Climate: Beyond Weatherdome." We will discuss some of the most significant weather and climate impacts in Minnesota and take questions from the audience. This fits well with the ongoing exhibit through April 28th titled "Weather to Climate: Our Changing World."
NOAA featured this week a description of the
Urban Assessment Program
(UAA) which is an online tool for municipalities to assess climate risks and options for coping with them based on local data bases.
MPR listener question:
We've lived on the same corner in northwest Northfield for over 30 years. Yesterday's (April 17) rain caused street flooding for several blocks. This is the third time in about 5 years we've seen this kind of flooding. Is there any chance that this kind of heavy rain (and the flooding) is related to climate change?
Answer:
I wish I could answer your question by dissecting all the climate data from Northfield, but the observational record there is too sparse. Further down the road at Fairbault there is a consistent record back to 1890 and it shows that over 110 years up to 2002 there were just 24 daily rainfalls of 3 inches or greater recorded. Since 2002 there have been 7 more. This conforms to a significant trend across much of the state that shows a higher frequency of heavy rainfalls. It also conforms to what the climate models tell us is in our future. So there is more than a chance climate change is involved in what you received this week, there is a significant likelihood.
Twin Cities Almanac for April 19th:
The average MSP high temperature for this date is 60 degrees F (plus or minus 12 degrees F standard deviation), while the average low is 39 degrees F (plus or minus 9 degrees F standard deviation).
MSP Local Records for April 19th:
MSP records for this date include: highest daily maximum temperature of 87 degrees F in 1985; lowest daily maximum temperature of 35 degree F in 1928; lowest daily minimum temperature of 19 degrees F in 1928; highest daily minimum temperature of 67 degrees F in 1985; record precipitation of 1.28 inches in 1871. Record snowfall is 1.2 inches in 1982.
Average dew point for April 19th is 35°F; the maximum dew point on this date is 62°F in 1957; and the minimum dew point on this date is 6°F in 1988.
All-time state records for April 19th:
The state record high temperature for this date is 95 degrees F at Canby (Yellow Medicine County) in 1985. The state record low temperature for this date is -3 degrees F at Tower (St Louis County) in 1897. The state record precipitation for this date is 2.87 inches at New Richland (Waseca County) in 1916. Record snowfall for this date is 25.0 inches at Isabella (Lake County) in 2013.
Past Weather Features:
One of the most massive April snow storms in state history occurred over April 19-21, 1893. The large low pressure system blanketed the state with rain, snow, and sleet. The Twin Cities reported 10 inches of snow, Rochester 14 inches, and St Cloud 36 inches. In fact St Cloud set an April record that year with 49 inches of snowfall.
Perhaps the coldest April 19th on a statewide basis was in 1928. Morning lows fell into the teens F as far south as Worthington, while single digits prevailed in the north. The daytime high at Warroad was only 27 degrees F.
By far the warmest April 19th in state history occurred in 1985 when over 20 southern Minnesota climate stations reported a daytime high temperature of 90 degrees F or greater. Even the overnight temperature remained in the 70s F at Gaylord.
Outlook:
The weather will be sunny and warm on Saturday with many areas seeing temperatures in the 60s and 70s F. There will be increasing cloudiness on Sunday with a chance for scattered showers and thunderstorms, especially after 4pm. Continue chance for showers early Monday, then dry for a few days. Temperatures will cool down a bit but still be near seasonal normals next week, warming towards the end of the week.